-All the items below are pre-order items, it will arrive estimate on Oct 26
- Please do not order if you cannot wait
- The price shown is NOT INCLUSIVE postage, postage is RM6 for West Malaysia, RM10 for East Malaysia
- Full payment has to be made upon confirmation of order. Which is total order + postage.
-Payment have to make the latest on Oct 8. Order will cancel if no payment receive on Oct 8.
- Prices shown are not negotiable .
- No exchange or refund of items.
- No cancellation after payment is made.
- A full refund will be made if item/s is/are Out of Stock.
- Pre-order period might be extended if minimum order quantity are not met.
To pre-order, please email us the items you are interested with the format shown below
product -Price x qty = subtotal
Shipping RM6(WM),RM10(EM)=RM6(WM)
Total: Subtotal+RM6(WM)
Example :
2. Doraemon & Dorami Cookies Mould – RM30×2 =RM60
15. Akinoichigo Bento Book -RM55×1=RM55
Shipping RM6(WM),RM10(EM)=RM6(WM)
Total: RM60+RM55+RM6=RM121
Please remember to include
Delivery Name:
Delivery Address:
Delivery Phone No:
 1.Yum Yum Bento Book -RM57
Paperback 143 pages
2.Hello Kitty pasta- RM20
Weight 100g
3.Doraemon & Dorami Cookies Mould -RM30
Set with 2 cookies mould
Material:Styrene resin
Heat Resistant:70 degree
Can use for cookies/bread/ham/cheese etc.'

Made in Japan
Size: approx.6cm × 6cm x2.2cm
4.Hello Kitty Shopping Bag -RM65

Can fold up become a decoration, please refer to other pictures
Size: W11×D6.5×H20cm(fold up and store)
Shopping Bag Size: W29.5×H54cm
5.Japan Import Multipurpose Cheese/Cookies/Bread Mould(2nd Generation) -RM65
Size:approx.W12 × D11.5 × H1.5cm
Weight (approx. ) 80g
Materialポリスチレン
Recipe book is included
This mould is easy and fun to use, with your creativity you can make more different cute cartoon for your bento

6.Varieties boiled egg/Jelly/Pudding Mould Set-RM75
Material:ポリプロピレン</p><p>Product Size:Body diameter :16.8 x 6.5cm
Yolk separator 5.4 cm
How to Use:(Picture Instruction is included)
1.Separate out the egg yolk and egg white
2.Apply some salad oil on the mould first
3.Pour in egg white and cover with the lid
4.Put the mould into a pot of hot water and make sure the water is cover the instruction line
5.Cook the hot water for about 15mins, remove the lid and pour the egg yolk into the inner mould
6. Cover the lid and cook for another 8 mins
7. Push from the bottom of the lid and you will be able to get a cylinder shaped boiled egg or jelly.
7.Sparkling eyes seaweed puncher -RM65
Size:approx.W4×D6×H4cm
Weight approx. 100g each
Material:plastic part:abs resin, metal part:zinc alloy
8.Smiley Face Seaweed Puncher Set-RM65
9.Doraemon Sandwich Mould+ Stamper Set – RM60
10.Sauces pen-RM50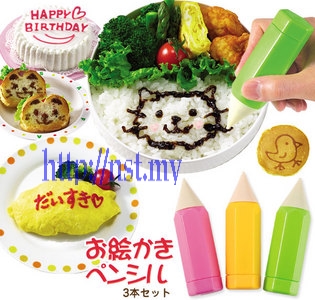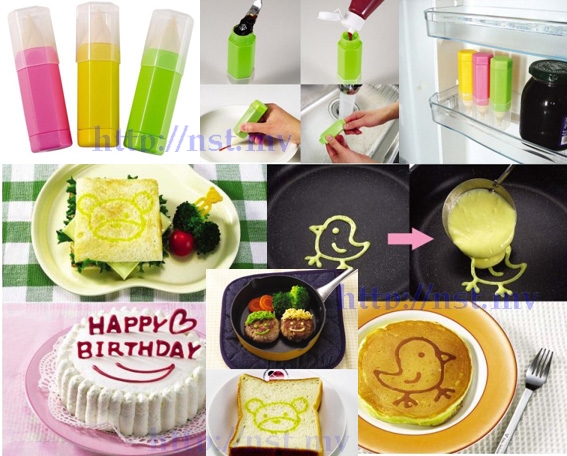 11.Cute quail egg cutter- RM58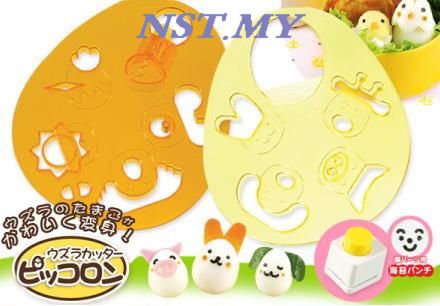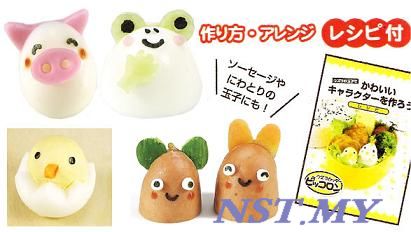 12.Panda Puncher -RM65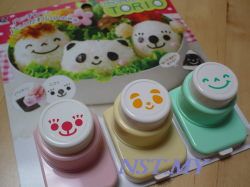 13.Doraemon Chocolate/Ice/Jelly Mould- RM49
1 time can make 15, with 4 different patterns.
material:silicon. Heat Resistant 200 degree, cold resistant -40
14.Mickey & Minnie Sandwich Mould Set/Cookies,Mooncake stamper-RM56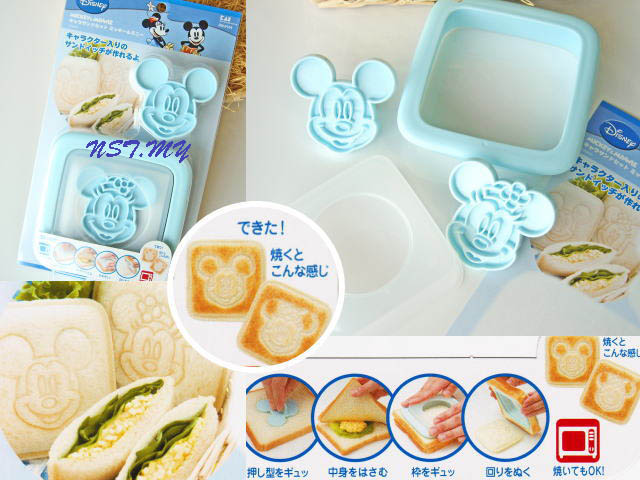 15.Pooh Sandwich Mould Set/Cookies,Mooncake stamper-RM56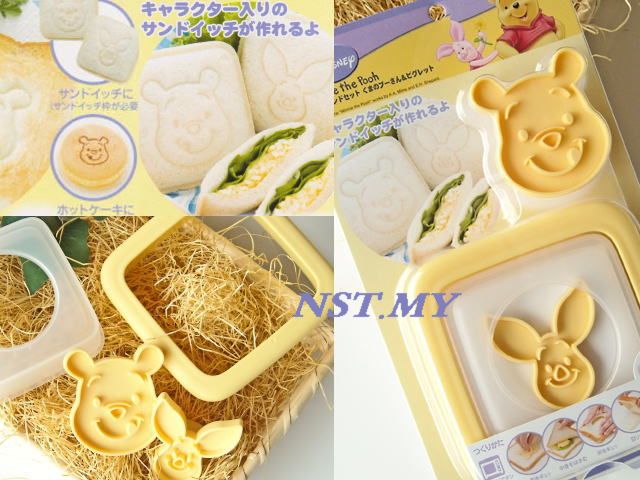 16.Mickey Minnie Cookies Mould-RM26


17.Pooh & Piglet Cookies/moon cake Mould-RM26


18.Hello Kitty Bread/Toast Mould+Stencil Set-RM59
Stencil is included which you can use it on other places too,
Stainless Steel
Size:13*5.5*5cm
Step by step picture guide is included(recipe will be provided)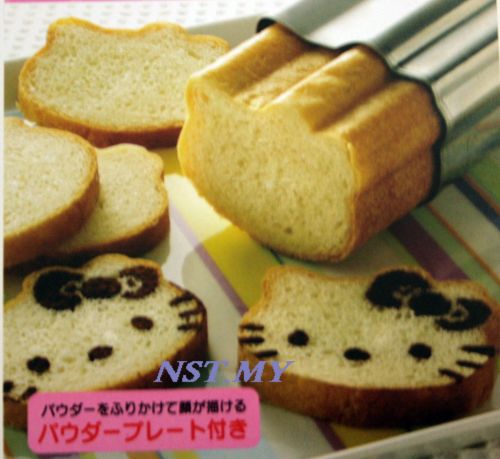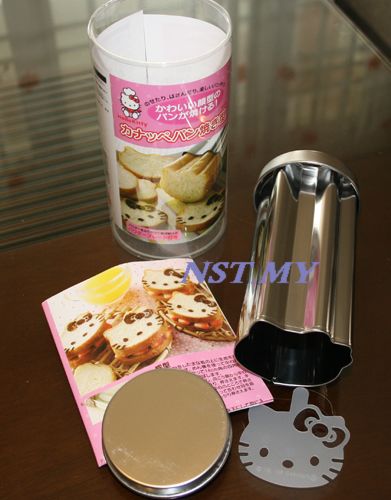 19.Hello Kitty Big Size Cookie Cutters or Sandwich Cutter-RM26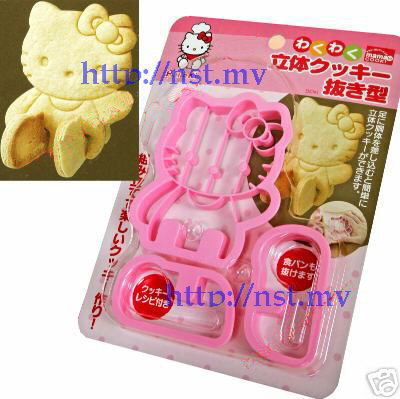 20.Pooh Big Size Cookie Cutters or Sandwich Cutter-RM26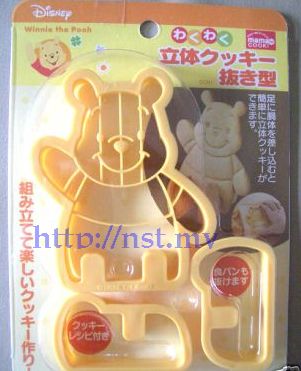 21.Hello Kitty Vegetable/Moon Cake mould-RM25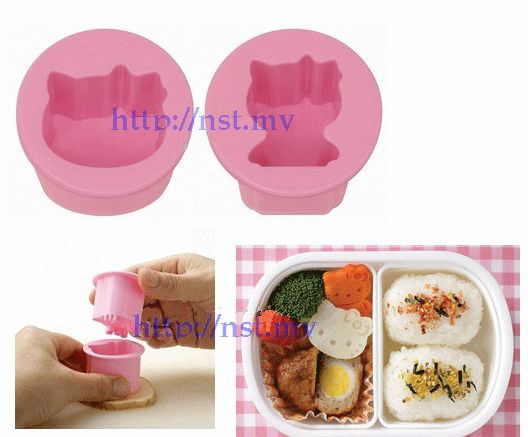 22.Mickey Vegetable/fruits/toast/cookies/cheese mould-RM25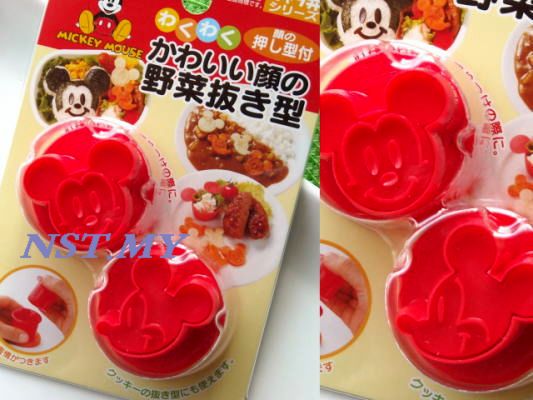 23.Mickey Mouse Bread/Toast Mould+Stencil Set-RM59
Recipe will be provide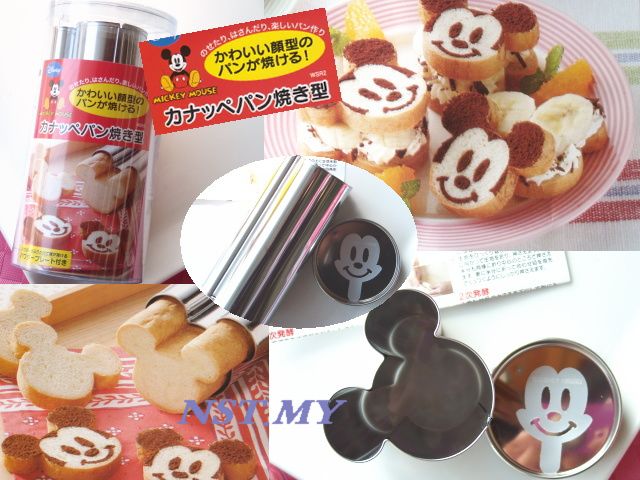 24.Mickey Toast/Cheese/Cake Mould-RM25
Checkout our blog for step by step usage http://blog.nst.my/?p=50
It can also use as rice mould http://blog.nst.my/?p=52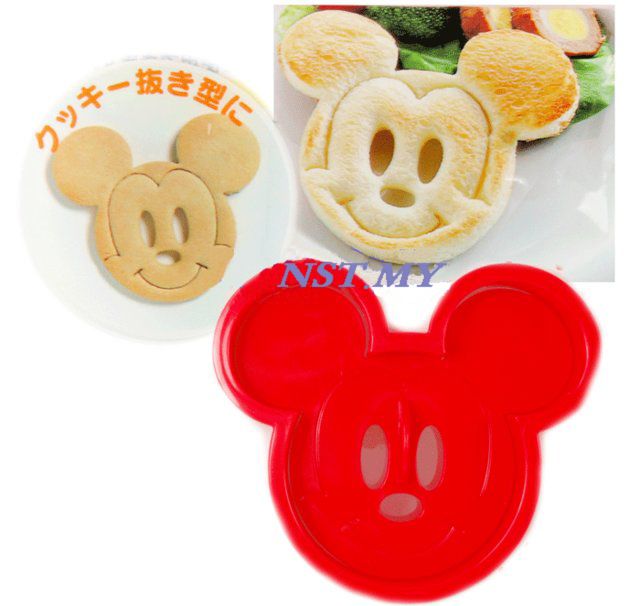 25.Anpanman Bento Set -RM69
Package size:( approx ): W150XD50XH260mm
Set included: 3 pieces rice moulds, 3 pieces cutter,2 egg moulds,4 food picks, 3 barans
26.Panda Sandwich Cutter & stamp set-RM55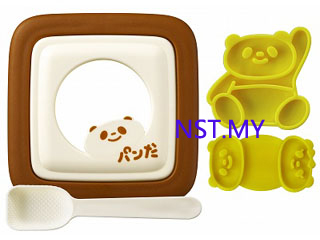 27.Hello Kitty Compact Rear Tray -RM90
Size:approx 143 × 215 × 36mm
One push open the tray
Can use to put food,thin can, small water bottle.
28.Hello Kitty Deodorizing Air Freshener -RM55
Material: Water based solid perfume
Made in Japan

29.Hello Kitty Multipurpose Tray -RM53
Can use in car, home or office
Size: approx. w352×50xh258mm

30.Hello Kitty Metallic Deodorizing Air Freshener-RM45
Size: approximately 68 × 63 × 64mm
Use natural ingredient water based solid perfume
4 colours to choose from pink,purple, blue, green

31.Hello Kitty Pink Deodorizing Air Freshener-RM45
Use natural ingredient water based solid perfume
32.Hello Kitty Black Deodorizing Air Freshener-RM45
Use natural ingredient water based solid perfume

33.Hello Kitty Metal Car Number Plate Emblem-RM67
Size: 30 × 38 horizontal × vertical thickness 15mm

34.Hello Kitty Anti-Slip Mat -RM38
Size:approximately 119 × 140 × 3mm

35.Hello Kitty Safety Belt Stopper -RM60
Set of 2
Size:approx.62 × 71 × 25mm

36.Hello Kitty Car Food Tray-RM115
Size: about 215 × 250 × 45mm
Can put 500ml PET bottle

37.Hello Kitty Car Umbrella Holder -RM75
Can hold up 2 umbrellas
Can also adjust the length to hold folding umbrellas
Size:approx: 660 × 160 × 10mm

38.Hello Kitty Seat Belt Pad-RM60
Size:approx. 250 × 53 × 25mm

39.Hello Kitty emblem -RM70

40.Minnie Easy Storage -RM90
With back pocket 5-8cm thick tissue box can be stored
41,Minnie Storage-RM70
Can store cards and pens
 Minnie Tissue Box Holder -RM65
Can put 5-8cm thick of tissue box

42.Sesame Street Tissue Box Cover -RM85
Size:approx.115×245x63mm


43.Snoopy Tray-RM83
Can use to put handphone and others small things.
It has non-slip material on the back therefore it is good to put in your car.

44.Sesame Street Elmo Emblem -RM65

45.Hello Kitty Anti-Slip Mat Blue-RM40
Size:approximately 136×135×3mm